NEWS ARCHIVE 2011
19.12.2011 Dear friends, it's time to grab a beer, pull up a chair, sit back and review this year's accomplishments...yup, the Holidays are here :)

Before taking a short vacation, we would like to say this was an amazing year for Rezistor! We've managed to release our debut album and make our music known to the world, we've extended our presence on the Internet, we've completely redesigned our website, we've even recently opened our own YouTube channel! But most important: we received very good feedback & support - and for that we would like to thank You!

We're cooking some interesting things for the next year, so rest assured, 2012 will be even more exciting! Until then, have fun, party, and rock on, guys!

Rezistor wishes You a Heavy Metal Christmas & a Thrashy New Year!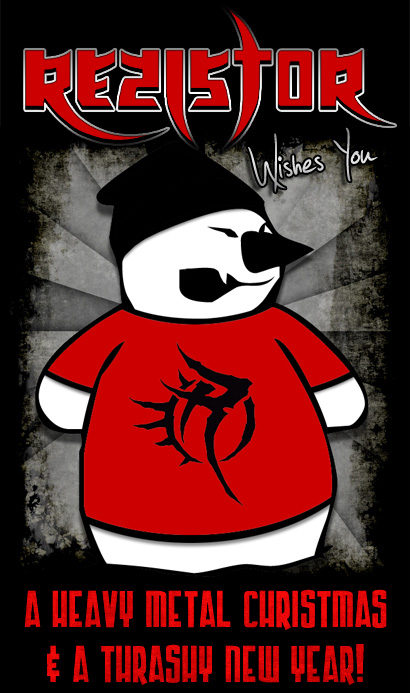 10.12.2011 A new review from the French metal rock webzine Pavillon 666 is available in the Media section! S.Y.L. & Pavillon 666, nous vous remercions!
21.11.2011 Dear friends, we proudly present you the new official Rezistor website! New layout and extended content! Here's a quick walkthrough:

- complete graphic overhaul.
- full album streaming & download available on the left of each page.
- new official Gmail contact address added on the left of the main page.
- access to our new YouTube channel by clicking the corresponding icon under the page menu.
- official press kit added in the Media section.
- the news archive is now organized by year.
- a new wallpaper is available in the Downloads section.
- "De partea mea" English translation added in the Media section.

More content will be added in the near future, so stay tuned & enjoy your visit here!
20.10.2011 "Metal Delirium" webzine has released "Standing Stout!" - an eclectic compilation of Underground bands and styles - featuring Rezistor's song, "Go Away"; the compilation is available for free download here. Our thanks to the guys in charge of putting this together and a big hello to all the featured artists!
22.09.2011 Ok guys, today we have another wild one for ya! :) Oh yeah, it's time to "THRASH TILL THE DEATH"! Some of you might already be familiar with the "monster" Alex 'Deathslyzer' Nygård is brewing on his blog; if not, well, the rumours say this strange animal came to life after intentionally mixing lots of beer, thrash metal and some pretty crazy topics - it's wild, raw, dirty and it hits you like a bulldozer :) So grab a beer, relax and listen to their latest creation: "Episode 22: Silent And God Less"! Be warned though: it's not for the faint of heart nor for the folks with sensible ears :) But then again, thrash music is not for sissies, right? :) Enjoy & and don't forget to support these guys!

Alex, thanks for covering our album in your podcast, bro! Cheers!
18.09.2011 Hello friends! We're excited to inform you that Loucifer Speaks - metal / rock webzine - is recommending Rezistor for their "Freebie of the Week" column. These guys go on weekly hunts for quality Underground metal in order to offer their readers interesting guilt-free mp3 downloads. We're honoured we've picked their interest and we hope more people will become interested in our music.

Louise Yardley & "Loucifer Speaks", we salute you! Best wishes!
18.09.2011 Heya! This time the review comes from the Dutch "Wings Of Death" webzine! From what we could gather (thank God for the online translators), it seems to be fairly objective; the language barrier might be a problem for some, but we prefer to present the info in its original format. The review is also available in our own Media section.

Thanks and best wishes to Chris & "Wings of Death"!
13.09.2011 Today we have a short, but entertaining review for ya! :) No Clean Singing is one of the few metal blogs that actually delivers consistent high quality info on a daily basis. In fact, it lately became one of our favourite hang out places on the Net, simply because they manage to deliver fresh content with enough hooks to keep your eyes peeled, while listening to some cool tracks of unconventional Underground metal.

We're honoured Rezistor was included in their latest post, alongside Bringers of Disease and Eldergaad; it's a concise and humorous review, so we're urging you to read it and also listen to the other bands - it's good stuff. As usual, the review is also available in our own Media section.

Our thanks to Islander & No Clean Singing! You rule!
11.09.2011 September looks promising for us, so today we've got new tasty info for you, guys :)

- a fresh review, written by Jose Arias and published on "Rock en Cuba" Music Portal is now available in the Media section. A new promo campaign is in progress so more reviews are expected in the forthcoming weeks!

- Rezistor is featured in the latest bulletin of the New Wave Of Thrash Metal Blog, alongside Strike Master, BlackRider & Revtend! Our thanks to Mr. R. Lawrence Blake!

Please visit their websites and show 'em some love & respect because these guys are true Underground Metal supporters. Kudos!
02.09.2011 Heya folks! We're starting the Fall season with great news :) During these past months, a lot of friends kept emailing us about making our album available for download. We are honoured that you're interested in our music and since the cd edition was limited and mainly for promo purposes, we've decided to offer a chance to everyone to add "Beware the Silent" to their music collection. Sooo....follow this address: http://www.mediafire.com/?ok6t09e49txo2 , download it & pass it on to your friends! Spread the word and keep in mind we're always interested in knowing your opinion! Thanks!
24.08.2011 Friday September the 2nd Alex will be invited by the Note pe nisip radio show on Radio Enigma Romania to talk about Rezistor and other music related subjects. The show is aired between 20:00 - 22:00 and can be listened online at: http://radioenigmaromania.ro/asculta-online. Don't miss it!


UPDATE: the recording of the show is now available for streaming in the Media section. Please jump to 1.08 min to skip the radio promos. Enjoy!
17.08.2011 Hey guys, we've just uploaded a fresh & fair review of our album! Thanks, Tzugu & Metalfan! As usual, the review can be found in our Media section. Enjoy!
31.05.2011 Well it's been a while since we've uploaded new band photos, so it was about time to correct that, right? We had a rehearsal this past weekened, took some pics and created a slideshow which was uploaded in the Photos section. Enjoy!
21.05.2011 We're excited to announce a brand new review of our album! It's written by fixxxer and published on Metalhead, one of the biggest Romanian metal websites. It's a long one, but very in depth and informative. You can read it here. Of course, we've also added it to our own Media - Reviews section for future reference. Enjoy!
18.05.2011 As previously announced, we're currently promoting our debut album, "Beware the Silent". This means sending a lot of promo cds to magazines, webzines and radio stations worldwide. This also means getting our album reviewed...

Well, here it is, folks: the very 1st one! It's written by Chris Butera and published on Review Fix! You can read it here.

Also, starting from today, we have a new section on our website's Media page, that will gather and archive all the incoming reviews. If you like to see all the info in one place, then please visit the Reviews section and read the reviews in full. We will not alter the content in any way, just copy / paste the original info in order to preserve it even if the actual review becomes unavailable on the publisher's website after a while.

Last, but certainly not least: we are always interested in reading people's opinion about our music. If you received one of our "Beware the Silent" cds, please feel free to write your own review - and of course, let us know about it! We'd love to comment together - we do like to keep a close relationship with our listeners! Thanks!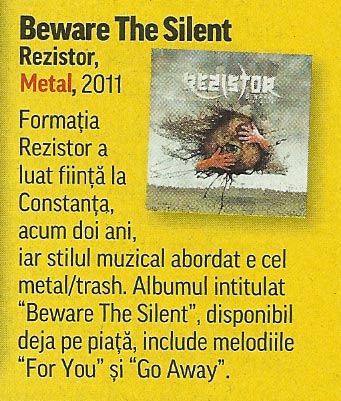 06.05.2011 Who would have thought the first magazine to promote our album would be...Click TV? As odd as it may seem...here it is :) The ways of the Romanian media are misterious indeed!
03.03.2011 We started sending the cds out. We decided to split the process in 3 phases:
PHASE I: ROMANIA (completed)
PHASE II: EUROPE (in progress)
PHASE III: USA & CANADA (in progress)
We're taking this approach to make sure all the cds reach their destinations (the Romanian Postal Service tends to handle most packages in a brutal manner, and unfortunately sometimes they even open some). We can also gradually receive more info about the state of the packages upon arriving so we could increase the cd protection if needed (still debating whether to send the cds to US in 1, or 2 bubble envelopes). We'll keep you posted! Please let us know when you receive your cd, your input will help us deliver all cds safely.
VERY IMPORTANT - PLEASE READ!
1. The cd you are about to receive is a CD-R type; we check every single one on several different cd players in order to make sure it was recorded properly. However, some older players might not be able to read it. We hope there will be no such issues, but if does happen, let us know and we'll see what we can do about it.

2. We send the cds to the addresses personally provided via emails or forum messages by the receivers or to the ones advertised by radios, magazines and webzines as their official contact addresses; we make sure we write them exactly, but we're not familiar with foreign postal codes and abbreviations (that's why we specifically asked for complete addresses). If you don't receive your cd, either the provided address was incomplete or wrong, or the Romanian Postal Service f***** things up (again). In any case, please let us know and we'll see what we can do about it.

3. Please be patient :) We know waiting is difficult, but we're trying our best to send all the cds ASAP. We will confirm via emails or private messages that your copy is on its way, if possible.

4. For all packages: the sender's name is VALENTIN ZECHIU. Remember that while sorting your mail :) Also please let us know if the cd arrived in good condition or not.

5. Last, but certainly not least: any feedback regarding the album is welcome - even if you didn't like it :) So don't be shy, let us know your opinion! Thanks!
15.02.2011 This is it, guys, the moment you've all been waiting for so long! The printed cds are 'in the house'! We've worked hard to make it happen and we're very excited about the result! This is a non profit and a self financed release, consisting of a run of just 100 copies! All the cds will be sent personally by the band members to promoters and metal enthusiasts worldwide, so if you're into Rezistor's music and you'd like a copy of "Beware the Silent" for your cd collection, contact us and secure a copy! Be quick, before the stock runs out!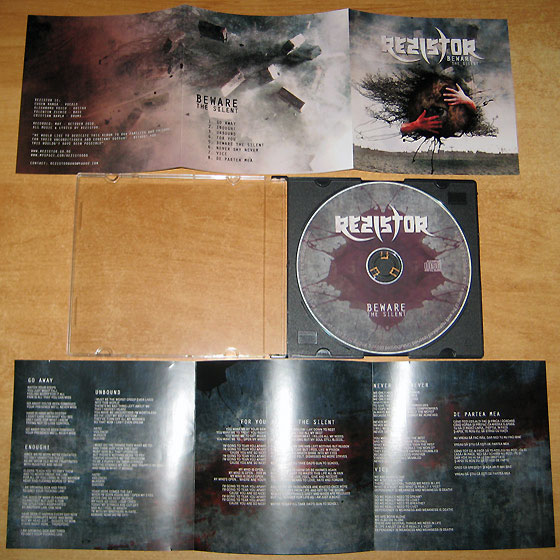 Curious how the printed booklet and cd actually look like? Well, here's a preview - just because we love you guys that much (uhmmm...ok, and 'cause it's a good occasion to brag a bit about it, hehe). As you can see, we've opted for a slim case cd with a 3 pages booklet (printed on both sides). As previously announced, all the artwok was created by Costin Chioreanu, an outstanding Romanian graphic artist. Costin, thanks, you did an amazing job!
11.01.2011 You can read a new interview (in Romanian) here! Enjoy!
01.01.2011 Follow Us on Twitter! Yup, now we have an official Twitter page as well :) Copy/Paste this link: http://twitter.com/Rezistorband ! See you there!