Welcome on the official Rezistor homepage! Here you will find all the info regarding the Romanian metal/thrash band. We know finding all the data in one place saves time & effort so we're trying to built a complete resource. We're always available for discussions, so don't hesitate to email us at the address posted to the left or directly via the Contact form. Thanks for visiting our homepage & spread the word!
---

29.06.2015 This is it, guys! We've been working on this for the past four years, and finally, our second album is ready to shred your speakers to pieces!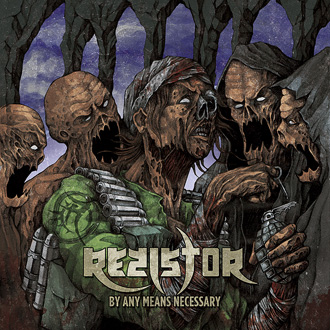 "BY ANY MEANS NECESSARY" has a self explanatory title. Making it was a trully brutal battle until the very end, due to countless setbacks and making the same mistake of trusting shady characters that repeatedly tried to sabotage the entire project. But out with the old and the bad, in with the new energy, and thanks to our friend, Ionut Micu - we can never thank you enough, bro - we've managed to deliver 8 brand new killer tracks: faster, heavier, and often with a twist :) Love it or hate it, this is who we are! Like it or not, we're still here and out for blood!

Our thanks to Marius Costache who agreed to take on the difficult job of putting everything together (mixing, mastering & a lot more) and to Costin Chioreanu for delivering a really killer album cover on such a very tight schedule! Kudos, guys!

As usual, everything is DIY and available for free, so grab your copy and show your support by spreading the word out and playing this sucker LOUD! Thrash on!


---

NEWS - news archive organized by year.
BIOGRAPHY - band history: past, present, future.
RELEASES - all the albums released by the band, including download links.
BAND - the members and their favourites.
PHOTOS - various photo slides depicting the band's activity.
MEDIA - press kit, lyrics, reviews & interviews.
LINKS - our personal recommendations for the World Wide Web.
DOWNLOADS - freebies (wallpapers and such).
CONTACT - sign the guestbook and we'll respond ASAP.